Every now and then the ultra keen trail rider calls on an adventure that exceeds all those prior. Enter the 2016 Trans NZ 5 Day Enduro stage race, taking place over an abundant variety of incredible trails of Craigieburn and Queenstown on the South island of New Zealand. 120 participants took to the challenge which consisted of huge mountain passes where four to five timed descents per day were well earnt from epic climbs over each day. Let me rephrase that: four to five BLIND descents on the clock which made for the most exciting/scary riding I think I've done to date! Seriously, the descents thrown at us without pre running made for some panic stricken adrenaline!
Of the 120 participants, three Trailscouts from Speedlite made the journey – Andrew "Smithy" Smith, Ben Walsh, and myself. Days 1 and 2 were staged in Craigieburn which consisted of a mix of fast, fun and flowing runs for the most part. Highlights which stood out on day 1 was stage 3, starting with fast open tussock goodness, then throwing us into steep beech woods where we were greeted by some amazing loamy goodness! The day come to set out the pecking order of the Trailscouts, Smithy ending up in 52nd, Ben with a 34th and myself in 19th.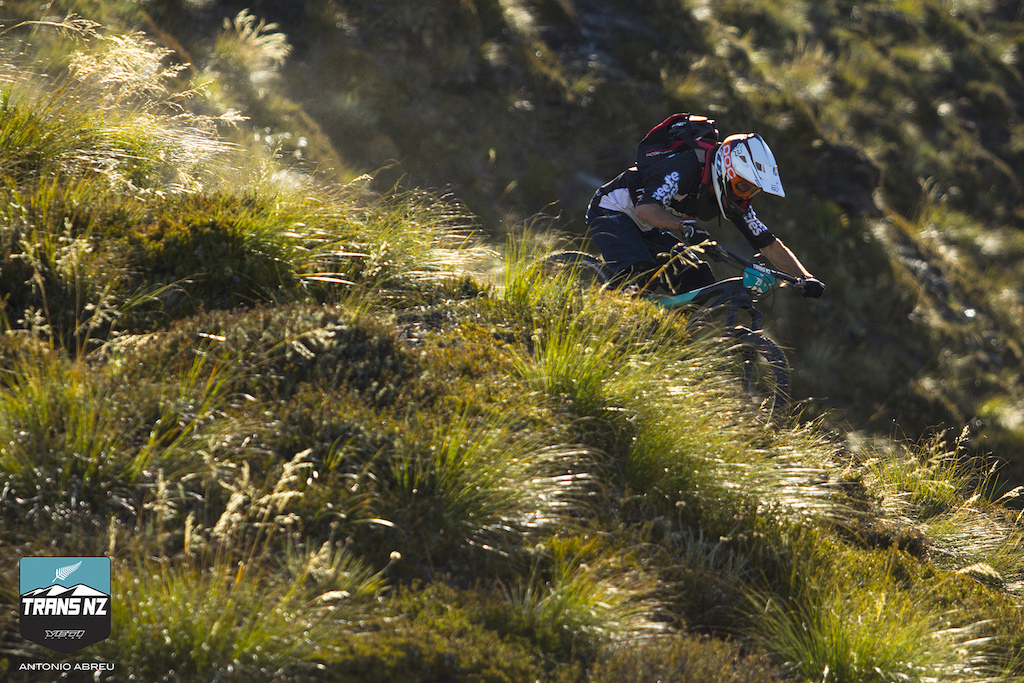 GN holding on down Coronet Peak!
Day 2 bought out the most memorable moment of Craigieburn, a descent aptly named "the edge". I guess things are slightly more relaxed in NZ, never have I been thrown down a race run, blind AND on the clock, literally on the edge of a cliff!! This was seriously insane, of what was roughly a 9 minute stage, the first half was literally all about survival! JUST STAY ON!! Once out of danger however, it was into the woods for some serious high speed forested fun. Much hooting and many high fives though sheer exhilaration were thrown about at the bottom, a combination of "holy crap that was seriously fun/nice to still be here"! It was also day 2 where Ben threw down the Gauntlet. After day 1 I thought I had Ben covered with around a 2 minute lead. However, Ben had other things to say about this and showed me what's up with a 35 second chunk eaten into my advantage. Game on! Ben posted an overall time earning him a top 20 result for the day coming up from 34th to a solid 19th! I managed 23rd while poor Smithy held back possible cardiac arrest while negotiating "the edge" dropped a few to 61st position!
After a cracking two stages in Craigieburn, it was time to hit the bus for a 7 hour trip down to Queenstown for days 3 -5. Day 3 saw us shuttled up to the climb to Coronet peak for some iconic Queenstown action. These are the famous descents we've witnessed many world class riders sessioning on numerous mtb movies – the stuff you watch and envie, getting inspired to hop on a plane to tick off the bucket list. Five incredible stages were thrown at us here including the infamous "Rude Rock", a 7-10 minute roller coaster ride with countless high speed blind peaks which saw me brake checking at every rise at speed to have a quick check over the crest, then let it rip again! "Pine cone" was pure loamy goodness with barley a pedal stroke beyond 20 secs in and "Zoot", a high speed cracker that had great sight lines so you could really let it go. The final descent off Coronet came to take the cake above and beyond even "the edge" in Craigieburn. Think ridgeline, think super steep and you have some idea. Think super steep, only to exit to the next drop in with a warning sign that reads "slow"! I don't recall a single person at the bottom that survived this beast who suggested they were thinking otherwise. Yep, the adrenaline was at 110% on this one! Did I mention it was…….., steep? Concern for my advantage was at an all time high here, Ben taking a whopping 53 seconds off me posting a 16th to my 21st. A great rivalry was in the making. I had my work cut out for me! Smithy made amends and jumped back up to 51st in slightly more manageable territory, crack on Smithy!
Ben Walsh on the hunt in Craigieburn, focussed!
Day 4 we ventured a couple of hours out of Queenstown into more familiar territory for us West Oz guys to Alexandra, a baron, treeless and rocky landscape. Blind rock roll ins were the course for the day. "Just follow the pink dots to the peak then have a look what's waiting over the crest" was along the line of instruction given at the briefing. Ok, we're use to this now, let's just punch on as usual! A great day of riding was had here with brilliant rocky technical sections, the odd techy uphill that kept you on your toes and some hard pedalling thrown in for good Enduro measure. This turned out to work to my advantage, finally getting back some time posting a 21st to Ben's 25th. Smithy showed consistency with another 51st, bring on the final day at Queenstown bike park!
Day 5, Queenstown bike park. Three stages were held on this beast of a mountain, starting with a nice steep run down the bike park consisting of a mix of technical single track and wide open high speed berms and senders. The next stage we were treated with a gondola to the top of the bike park. All well and good, but this is Enduro, so a good one hour plus climb/hike a bike above and beyond the park would earn us some incredible panoramas over Queenstown and our next epic descent. Stage two was a classic weaving trail along the crest of a tall ridgeline, leading into an impressive ledged in trail into some amazing Beech forest loam, off camber and switch backs dreams are made of! The final stage would see us descending down an incredible high speed tree root infested animal to finish the event with a lasting impression of absolute exhileration. A truly class piece of trail which summed up what was simply an unforgettable experience. Taking the old man approach of minimal risk as opposed to "win or bin" paid off in the end, just pipping strong rival Ben by 16 seconds over an accumulated 2 hours 13 minutes of timed stages! I ended up taking the final spot in the overall results in the top 20 by the skin of my teeth, narrowly squeezing Ben out to a well earnt 21st. An epic battle making a great event all the better. Smithy stayed strong in the end just in the top 50, a job well done considering surviving another day after his encounter with "the Edge"!
Click on the link below for event details and final standings:
Here are the links for some great footage edited for each day of the event:
Stage 1 http://www.pinkbike.com/video/438231/
Stage 2 http://www.pinkbike.com/video/438018/
Stage 3 http://www.pinkbike.com/video/438233/
Stage 4 http://www.pinkbike.com/video/438406/
Stage 5 http://www.pinkbike.com/video/438484/
Cool little edit by Ben Walsh for a ll the ladies!